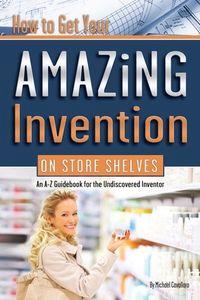 How to get your amazing invention on store shelves:an A-Z guidebook for the undiscovered inventor
點閱:9
作者:by Michael Cavallaro
出版年:c2011.
出版社:Atlantic Publishing Group, Inc.
ISBN:978-1-60138-732-5 ; 1-60138-732-6
書籍內容簡介
Ideas are everywhere. People are constantly thinking up better ways to do things and make peoples lives easier. Every year, more than 1.6 million new patents are filed worldwide and millions of new ideas sit on the desktops of basement inventors waiting to be turned into the ultimate money making, life altering product that they have dreamed of creating since childhood. Turning those ideas into marketable products though can be an incredibly lengthy, complex process, especially for the independent inventor with limited resources. In this age of the self-made celebrity, expert, and business owner, there is no reason why you cannot market your inventions as well and create a demand for your amazing new idea.
章節目錄一覽
Cover(第1頁)
Copyright Page(第2頁)
Preface(第3頁)
Testimonial(第4頁)
Author Dedication(第5頁)
Table of Contents(第6頁)
Introduction(第7頁)
Chapter 1: Owning Your Idea(第8頁)

Universal First Steps(第9頁)
Commercialization Strategy(第10頁)
Documenting Your Invention(第11頁)

Chapter 2: Evaluating Your Invention(第12頁)

The Importance of Early Evaluation(第13頁)
Invention Evaluation Services(第14頁)
Evaluating Your Invention(第15頁)
After the Critique(第16頁)
Competitive Advantage(第17頁)

Chapter 3: Building a Prototype(第18頁)

Designing for the Manufacturers(第19頁)
Industrial Designers(第20頁)
Your Prototype(第21頁)
Modifications(第22頁)
Packaging(第23頁)

Chapter 4: Building Connections through Industry Research(第24頁)

Understanding Your Product's Value(第25頁)
Determining Market Position(第26頁)
Consumer Research(第27頁)
Contacting the Sales Force(第28頁)
Pull-Through Sales(第29頁)
Test-Marketing(第30頁)
Production Costs(第31頁)
New Versus Existing Products(第32頁)
The Size of Your Market(第33頁)

Chapter 5: Identifying Your Customers(第34頁)

Targeting the Manufacturer(第34頁)
Working with Licensees(第36頁)
Selecting the Distribution Chain(第37頁)
Trade Shows and Trade Associations(第38頁)
Mail Order Catalogs and Online Retailers(第39頁)
Research and Development Departments(第40頁)

Chapter 6: Before You Get Your Patent(第41頁)

Hiring a Patent Examiner(第43頁)

Chapter 7: Understanding Patent Laws(第44頁)

The Three Types of Patents(第44頁)
Types of Intellectual Property(第46頁)
When to Pursue a Patent(第47頁)
The Scope of Intellectual Property Protection(第48頁)
Formal Property Protections(第49頁)
The Application Process(第50頁)
The One-Year Rule(第51頁)
Finding a Patent Agent(第52頁)
Patent Attorneys(第53頁)
Patent Deadlines(第54頁)
Trademark Protection(第55頁)

Chapter 8: Licensing to Companies(第56頁)

Risk Factors(第56頁)
The Benefits of Licensing(第58頁)
Your Presentation(第59頁)
Licensing Agents(第60頁)
Licensing Elements(第61頁)
Assigning Rights(第62頁)
The Negotiating Process(第63頁)
Contingent Fee Intermediaries(第64頁)
Assistance for Independent Business(第65頁)

Chapter 9: Patent Protection(第66頁)

Liability(第66頁)
Infringement(第68頁)
Infringement Hearings(第69頁)
Stopping Infringement(第70頁)

Chapter 10: How to Avoid Scams(第71頁)

Invention Marketing Scams(第71頁)
The Spending Spiral(第73頁)
Mail Scams(第74頁)
How to Avoid Being Scammed(第75頁)
Invention Promotion Laws(第76頁)

Chapter 11: Coordinating Your Commercialization Strategy(第77頁)

Types of Insurance(第78頁)
Types of Royalties(第79頁)
Marketing and Publicity(第80頁)
Promotion(第81頁)
The Sell Sheet(第82頁)
The Price List(第83頁)
Terms and Conditions(第84頁)
Other Marketing Materials(第85頁)

Chapter 12: Foreign Markets(第86頁)

Foreign Patent Applications(第86頁)
Filing with Treaty Organizations(第88頁)
Foreign Patent Laws(第89頁)
Filing Methods(第90頁)
Foreign License Deals(第91頁)
Foreign Market Analysis(第92頁)

Conclusion(第93頁)
Appendices(第94頁)

Appendix A: List of Inventor Resources(第94頁)
Appendix B: Witness Form(第96頁)
Appendix C: Non-Disclosure Agreement Form(第97頁)
Appendix D: Proprietary Submission Statement(第98頁)
Appendix E: Business Proposal Form(第99頁)
Appendix F: License Agreement Form(第100頁)
Appendix G: Sample Sell Sheet(第101頁)
Appendix H: Consumer Questionnaire(第102頁)
Appendix I: Distribution Chain Interview Questions(第103頁)
Appendix J: Sample Cover Letter to Catalogs:(第104頁)
Appendix K: Glossary of Terms(第105頁)

Bibliography(第106頁)
Author Biography(第107頁)