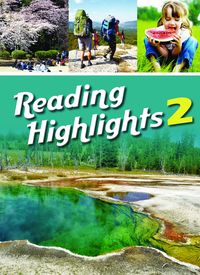 Reading Highlights. 2
點閱:29
作者:James Ming
出版年:2015
出版社:AMC Publishing Company
ISBN:978-986-6990-89-2 ; 986-6990-89-3
書籍內容簡介
In learning English, reading is an essential skill for acquiring new vocabulary and reinforcing your grammar; it is doubly important if you have limited opportunities to learn by listening. Although reading may seem very difficult at first, the task becomes easier with these simple strategies.
Not everything in a text may be useful to you right away. When you determine what's important, you identify the main themes of the text and focus on them, without getting distracted by irrelevant information.
As you read, you work not only with the text, but also everything you already know about the topic. Use prior knowledge about the world, as well as your previous experiences, to help you make sense of what you're reading.
Once you understand the text, you can also make inferences, or use the new information and background information to draw conclusions and interpret facts.
It's also important to ask questions before, during, and after reading, as they help you see the text from several angles and understand it clearly. They are not a sign of trouble, but a tool for understanding.
Another helpful tool is mental images. In your mind, use all five senses to experience the text and enhance not only your understanding, but also your enjoyment.
One of the first things to do when you read is understand the structure of the text; that's what you do when you skim, or read very quickly, skipping many words. Once you have located the most important points, you can use them to answer specific questions later.
As you look at each new paragraph, you should try to find the topic sentence, because it contains the main idea; if it isn't what you need now, you can save the supporting information for later.When you see an unfamiliar word, it's tempting to slow down or even stop reading. However, it's often possible to learn vocabulary in context, or use other words in the same sentence or nearby sentences to guess the meaning quickly. This rough understanding is often enough to understand the text.
Finally, you may use your knowledge of the text's structure, as well as markers such as topic sentences and key words to scan, or quickly find detailed answers to specific questions.
The purpose of many of these skills is to help you read more quickly, and if your goal is speed, you should also time yourself. How much time do you need to understand a paragraph or a page? Push yourself to read faster, and with practice, your speed will improve.
These ten strategies take some time to learn, but once you've mastered them, you will find reading much easier, and maybe even more fun!
章節目錄一覽
Unit1 What's Hot and What's Not Smartwatches: The Hottest Gadgets in Technology(第9頁)
Unit2 Smart for Art Sufism! Purely About Love(第12頁)
Unit3 Staying Fit and Healthy Understanding Eating Habits(第15頁)
Unit4 Circle of Life Wetlands: Boosting the Ecosystem(第18頁)
Unit5 Going Beyond Borders The Eternal Terracotta Warriors(第21頁)
Unit6 Why Did They Do That? Why We Buy Things(第24頁)
Unit7 Who's who Yayoi Kusama's Works of Polka-Dotted Perfection(第27頁)
Unit8 What's Hot and What's Not Korean Drama Takes Over the World(第30頁)
Unit9 Going Beyond Borders The Must-See Shinto Shrines of Japan(第33頁)
Unit10 What's Hot and What's Not New Music Services Present New Challenges for the Music Business(第36頁)
Unit11 Smart for Art Art at Your Feet(第39頁)
Unit12 Tools of Communication Lessons in Linguistics(第42頁)
Unit13 Going Beyond Borders Dancing with the Stars(第45頁)
Unit14 Pack Your Bag Travel Smart with Lonely Planet(第48頁)
Unit15 Pack Your Bag Iguazu Falls: Soaking Visitors with Awe(第51頁)
Unit16 Who's Who Emma Watson Speaks Up for Gender Equality(第54頁)
Unit17 What's Hot and What's Not An Introduction to 3D Printing(第57頁)
Unit18 Why Did They Do That? Why People Flirt(第60頁)
Unit19 Who's Who The Many Skills of Benjamin Franklin(第63頁)
Unit20 Bon Appetit The Wonderful World of Watermelons(第66頁)
Unit21 Tools of Communication Cursing Foul Language(第69頁)
Unit22 Why Did They Do That? Competing from Your Birth to the Grave(第72頁)
Unit23 Why Did They Do That? Rules of Attraction(第75頁)
Unit24 It's Never Too Late to Learn Fun with Photography(第78頁)
Unit25 Who's Who Lei Jun—China's Steve Jobs(第81頁)
Unit26 Circle of Life Europe Isn't What It Used to Be(第84頁)
Unit27 Bon Appetit Crazy for Cocoa(第87頁)
Unit28 Game On The Beauty and Balance of Gymnastics(第90頁)
Unit29 Bon Appetit Nature's Anti-Aging Remedy(第93頁)
Unit30 Why Did They Do That? The Surprising Secret of Successful Students(第96頁)
Unit31 What's Hot and What's Not Getting the Perfect Body and Mind with Yoga(第99頁)
Unit32 Who's Who Celebrating the Simple Life with Thoreau(第102頁)
Unit33 Why Did They Do That? Fighting Past Failure to Achieve Success(第105頁)
Unit34 Going Beyond Borders Weddings Around the World(第108頁)
Unit35 Why Did They Do That? Crazy for Celebrities(第111頁)
Unit36 What's Hot and What's Not Creativity in Crowds(第114頁)
Unit37 Pack Your Bag Fun in the San Diego Sun(第117頁)
Unit38 Surfing the Net Social Network Safety(第120頁)
Unit39 Staying Fit and Healthy Food Fears: Taiwan Rocked by Safety Scandals(第123頁)
Unit40 Smart for Art MOBA: The Home of Horrible Art(第126頁)
Unit41 Smart for Art Ugly Is In(第129頁)
Unit42 The Magic of Discovery Making Sense of Math(第132頁)
Unit43 Game On Three Cheers for Cheerleading(第135頁)
Unit44 Improving the World Conquering Heights with Elevators(第138頁)
Unit45 Why Did They Do That? What Drives Our Driving Habits(第141頁)
Unit46 Circle of Life The World's Most Bizarre Creature(第144頁)
Unit47 Circle of Life Too Much Stuff(第147頁)
Unit48 Pack Your Bag Sardinia: Italy's Island Paradise(第150頁)
Unit49 What's Hot and What's Not Planning the Perfect Picnic(第153頁)
Unit50 It's Never Too Late to Learn Volunteer and Change the World(第156頁)
Unit51 Pack Your Bag Putrajaya's Modern Nature(第159頁)
Unit52 Why Did They Do That? The Crying Game(第162頁)
Unit53 Tools of Communication A Language Unspoken(第165頁)
Unit54 Going Beyond Borders A Blooming Good Time(第168頁)
Unit55 Going Beyond Borders Tea the Taiwanese Way(第171頁)
Unit56 Bringing the Past to Life The Story of Soda(第174頁)
Unit57 Going Beyond Borders Haunting Halloween Monsters(第177頁)
Unit58 The Magic of Discovery Saving the World with Engineering(第180頁)
Unit59 What's Hot and What's Not Cloud Computing: The Sky Is the Limit(第183頁)
Unit60 Going Beyond Borders The Magic of Onsens(第186頁)
Unit61 What's Hot and What's Not Why Not Electric Scooters?(第189頁)
Unit62 Pack Your Bag The Blue Tears of the Matsu Islands(第192頁)
Unit63 Staying Fit and Healthy The Truth Behind Skin Tone(第195頁)
Unit64 Bringing the Past to Life The Mysteries of King Tut(第198頁)
Unit65 Staying Fit and Healthy Your Body's Killing Machines(第201頁)
Unit66 Circle of Life The Art of Disappearing(第204頁)
Unit67 Staying Fit and Healthy Hiccupping and Evolving(第207頁)
Unit68 Going Beyond Borders Fighting for Fun(第210頁)
Unit69 Circle of Life Who's the Boss?(第213頁)
Unit70 Circle of Life South Africa's Natural Wonder(第216頁)
Unit71 Game On The Great Game of Golf(第219頁)
Unit72 Circle of Life Whale Sharks: Gentle Giants(第222頁)