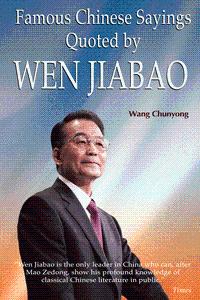 Famous Chinese sayings quoted by Wen Jiabao
點閱:4
作者:authored by Wang Chunyong;translated by Chan Sin-wai
出版年:c2009
出版社:Chung Hwa Book Co.
ISBN:978-962-8931-65-1 ; 962-8931-65-2
書籍內容簡介
This book has 124 lines of Chinese sayings quoted by Premier Wen in various interviews, speeches and conferences. The source, authors, meaning, and background of the quotations are given in detail. The contexts in which Premier Wen quoted these lines are also comprehensively analyzed. The book gives an insight into his views and thoughts on China's reform and the welfare of the people. Through these quotations, readers will get to know Premier Wen, his personality and his perspectives. Readers will also grasp the wisdom of the sages through Premier Wen's exposition of his quotations.
作者/出版社簡介
Wang Chun young

王春永,男,70年代出生,文學學士、法學碩士,曾在洛陽、蘭州和內蒙古等地讀書和工作,現居深圳。在海外和大陸出版的主要著作有《最小笨蛋=最大贏家》(香港中華書局)、《圖解周易》(香港中華書局)、《圖說莊子100名言》(廣西人民出版社)、《博弈論的詭計》(中國發展出版社)、《活得輕鬆的生活法則》(香港三聯書店)、《贏得輕鬆的博弈法則》(香港三聯書店)。
章節目錄一覽
Preface Zhai Defang: A premier who looks up at the starry sky(第5頁)
Part 1 Feelings and Aspirations(第17頁)

1 I'll do whatever is in the interests of my country even at the cost of my own life; I would never shrink back because of personal weal and woe(第18頁)
2 The fabled cuckoo weeping blood at China's woe, and the Jingwei bird filling the sea with pebbles untold(第20頁)
3 When I reach the peak of Mount Tai, all other mountains look so small(第23頁)
4 To ordain conscience for Heaven and Earth, to secure life and fortune for the people, to continue the lost teachings of past sages, and to establish peace for all future generations(第25頁)
5 Don't say that this fortified pass is as hard as iron, as we can now cross its summit in one step(第28頁)
6 The way ahead is long, and I do not see any ending, yet high and low I'll search with determination(第31頁)
7 Who can say that the heart of inch-long grass will repay the sunshine of spring(第33頁)
8 To worry before the whole world worries, and to rejoice after the whole world rejoices(第36頁)
9 The worries and joys of all the people(第38頁)
10 As Heaven' s movement is ever vigorous, a gentleman must ceaselessly strive along(第41頁)
11 Coming to a deadlock leads to changes; changes lead to solutions; solutions lead to sustainability(第43頁)
12 I don't have half an acre of land to myself, but I care about my people across the land. I read over ten thousand books and am spiritually attracted to the ancient people(第44頁)
13 Long did I sigh to hold back tears; saddened I am by the grief of my people(第47頁)
14 Why are my eyes always filled with tears(第48頁)
15 Lying in bed in my den, I heard the rustling of bamboos outside, and it just sounded like the moaning of the needy(第50頁)
16 The difficult thing is not just to know something, but to do something; the difficult thing is not even to do something, but to be persistent in doing something(第53頁)
17 What one did at the time will be judged by history. History is created and written by the people(第56頁)
18 I have devoted my life to serving the people and will always do my best in the service(第58頁)
19 A spring silkworm keeps producing silk until it dies; a candle keeps giving light until it burns into ashes(第68頁)

Part 2 Responsibilities and Hardships(第71頁)

20 We survive in adversity and perish in ease and comfort(第72頁)
21 The way to accumulate wealth is to have many producers but few consumers, and to have activity in the production and economy in the expenditure(第75頁)
22 Everybody is responsible for the rise or fall of the country(第78頁)
23 When safe, don't forget danger; when in peace, don't forget chaos(第81頁)
24 When living in peace, we have to think of danger. If we think, then we will be prepared. If we are prepared, then we will have no worries(第84頁)
25 Safety and danger alternate; misfortune and fortune are mutually dependent(第87頁)
26 A boat sailing against the stream must forge ahead or it will be driven back(第89頁)
27 If a journey is one hundred miles long, travelling ninety is half of it(第92頁)
28 Things are born out of planning, completed inpractice, but lost in arrogance(第95頁)
29 Only when we think about where danger looms can we ensure our security. Only when we think about why chaos occurs can we ensure our peace. And only when we think about why a country falls can we ensure our survival(第97頁)
30 Its rise is quick; its fall is sudden(第100頁)
31 A country that appears peaceful and stable may encounter unexpected crises(第103頁)
32 In the evening, we are still careful and apprehensive(第106頁)
33 Difficulties rejuvenate a nation(第108頁)
34 Those who are in official positions should be courageous to shoulder responsibilities and should not avoid difficulties(第110頁)

Part 3 Economy and Livelihood(第115頁)

35 My mind is on the hardship and suffering of the people, and my ears seem to hear the sighs of the people in hunger and cold(第116頁)
36 When a ruler rejoices in the joy of his people, they also rejoice in his joy; when he grieves at the sorrow of his people, they also grieve at his sorrow(第119頁)
37 To remove the calamities of the people is like taking away an illness of the heart(第121頁)
38 The virtue of the ruler is seen in his good government, which is in the nourishing of the people(第123頁)
39 People are the basis of a nation, and only when this basis is stable can the nation enjoy peace(第126頁)
40 Although Zhou was an ancient state, it had a reform mission(第128頁)
41 There is no need to fear changes of the sky, no need to emulate the way of the ancestors, and no need to seek the approval of others(第131頁)
42 Where the hills and streams end and there seems no road beyond, a midst shading willows and blooming flowers there is another village(第135頁)
43 Hear what they say and then watch what they do(第138頁)
44 Each time a fete day comes, I yearn doubly for my family(第140頁)
45 If another person succeeds by one effort, I willmake ten efforts. If another man succeeds by ten efforts, I will make a hundred(第143頁)
46 A fire on the city gate brings disaster to the fish in the moat(第146頁)
47 Don't say that this year's spring is about to end, as the scenery of spring will be twice as enchanting next year(第148頁)
48 The side that has superiors and subordinates united in heart will take the victory(第152頁)
49 It would be better to obtain a fire-maker than beg for fire, better to dig a well ourselves than beg for water from others(第155頁)

Part 4 Education and Culture(第159頁)

50 Long-lasting is the spacious heaven, deep are myhome feelings(第160頁)
51 Read thousands of books and travel thousands of miles(第162頁)
52 I do not open up the truth to one who is not eagerto get knowledge, nor help out anyone who is not anxious to explain himself(第164頁)
53 Whatever we teach is all about the pursuit of truths(第166頁)
54 A teacher is one who passes on the truth, imparts knowledge and dispels doubts(第169頁)
55 It takes ten years to make a sword(第172頁)
56 Poetry expresses one's thoughts, singing speaks one's voice, and dancing shows one's color(第175頁)
57 If words are not sufficient, sighing can be better(第178頁)
58 The three hundred poems in the Book of Poetry were for the most part written out of indignation of the sages(第179頁)
59 If a man were, all of a sudden, to see a young childon the verge of falling into a well(第182頁)
60 Speak with substance and act by rules(第183頁)
61 Clarity of knowledge, proficiency in affairs, and loyalty to the nation(第185頁)
62 If there is concord and unity, there is harmony(第187頁)
63 In cutting an axe handle, the norm is not far off(第189頁)
64 All people are my brothers and sisters, and all things are my companions(第192頁)
65 It is not buildings that make a university(第194頁)
66 Teaching is in order not to teach(第197頁)
67 Literature is a vehicle of the Way(第199頁)
68 Learn, so as to teach others; act, so as to serve as an example to all(第202頁)

Part 5 Democracy and Listening to the People(第205頁)

69 The sea does not reject water, so it is able to become great; the mountain does not reject stones, so it is able to become tall(第206頁)
70 Do not impose on others what you yourself do not desire(第208頁)
71 The individual values freedom and the state values autonomy(第211頁)
72 Open the door for the fine words(第213頁)
73 When words can be heard, the Way will move forward(第216頁)
74 A man of heroic spirit, though advanced in years, never abandons his proud aspirations(第218頁)
75 He who knows the leakage of a house lives underits roof, and he who knows the mismanagement of a state stays on its land(第221頁)
76 The chances for worthy people to advance should be wide but not narrow; the channel of communication with leaders should be open but not blocked(第224頁)
77 While water can carry a boat, it can also overturn it(第227頁)
78 Safety or danger does not alter one's will; difficultyor ease does not change one's mind(第229頁)
79 The speakers are not to be blamed, while the listeners can introspect(第232頁)
80 Long, long, the bird will sing, expecting its mates to echo(第234頁)
81 Only innovation can sustain the growth and vitality of a nation(第236頁)

Part 6 Across the Taiwan Straits, Hong Kong and Macao(第241頁)

82 Bury me on the highest mountaintop so that I can get a sight of the Mainland(第242頁)
83 One does not complain against heaven, nor does one blame the people(第244頁)
84 Strong winds test the strength of the grass(第246頁)
85 Four million people cried the same tears of sorrow as Taiwan was ceded(第249頁)
86 When even a foot of cloth can be stitched up, even a kilo of millet can be ground, how can two blood brothers not make up(第252頁)
87 A gentleman must be strong and resolute(第254頁)
88 Only with death does the road come to an end. Is that not long(第256頁)
89 One who has the Way will have many to support him, while one who does not will have few to support him(第258頁)
90 The red bauhinia is beautiful this year, and it will be even more beautiful next year(第260頁)
91 A thousand sails pass by the wrecked ship; ten thousand saplings shoot up beyond the withered tree(第262頁)
92 We remain brothers after all the calamities, let's for go our old grudges with a smile and meet again(第265頁)
93 I have always longed to see a reunified China, an aspiration shared by all our people(第268頁)
94 I will not seek personal gains. But if the gains benefit the world, I will certainly seek them(第270頁)
95 When the Great Way prevails, the world is for the public(第273頁)
96 If you don't move forward, you will fall behind(第276頁)

Part 7 The International Situation and Diplomatic Relations(第279頁)

97 Peaches and plums do not speak, yet a path is trampled out beneath them(第280頁)
98 As generations change and the seasons replace one another, it was time to reforms the laws(第281頁)
99 Good friends highly value their words. They travel a thousand miles to keep their promise for a gathering(第284頁)
100 Harmony is most valuable, but it allows diversity(第287頁)
101 We should have amity among people and friendly exchanges among nations(第288頁)
102 After parting in the sea, we two have long been divided by mountains and rivers(第290頁)
103 We have no fear of the clouds that may block our view, as we are already on the summit(第293頁)
104 The retreat of summer makes the sky clean, and the shiny autumn moon makes everything clear(第296頁)
105 It is most important to have close and honorable relations with one's neighbours(第298頁)
106 Distance cannot separate true friends who feel so close even when they are thousands of miles apart(第300頁)
107 Favourable weather is less important than advantageous terrain, and advantageous terrain isless important than human unity(第302頁)
108 Virtue never stands alone. It is bound to haveneighbours(第304頁)
109 In all intercourse between states, if they are near to each other, there should be mutual friendliness, verified by deeds; if they are far apart, there must be sincere adherence to truth in their messages(第305頁)
110 I have not swept the path of fallen petals untiltoday, and I have opened my thatched door just for you(第307頁)
111 Nothing is hard under the sky, if we dare to climbup high(第309頁)
112 Do not forget the good given by others and do forget the good given to others(第311頁)
113 Distance tests a horse's strength, and time reveals a person's real character(第313頁)
114 Promises must be kept and action must be resolute(第316頁)
115 The green mountain can't stop water from flowing, and the river keeps flowing eastward(第318頁)
116 One should honour commitments made to friends(第321頁)
117 A person with high virtue does not show off virtue(第324頁)
118 Facilitate and not harm; provide and not compete(第326頁)
119 To win distant friends, one needs, first of all, to have good relations with his neighbours. To avoid adversity, one needs to ease animosity(第328頁)
120 Crossing the river in the same boat in the gale, ones would go to each other's aid like the right hand helping the left(第330頁)
121 It is not too late to mend the fold even after some of the sheep have been lost(第333頁)
122 All living creatures grow together without harming one another; ways run parallel without interfering with one another(第336頁)
123 A fall in the a pit is a gain in your wit(第339頁)
124 From shore to shore it is wide and surgeless, and under a fair wind a sail is lifting(第342頁)

References(第347頁)